Major and Melodic Minor Scales on Quartertones SAXOPHONE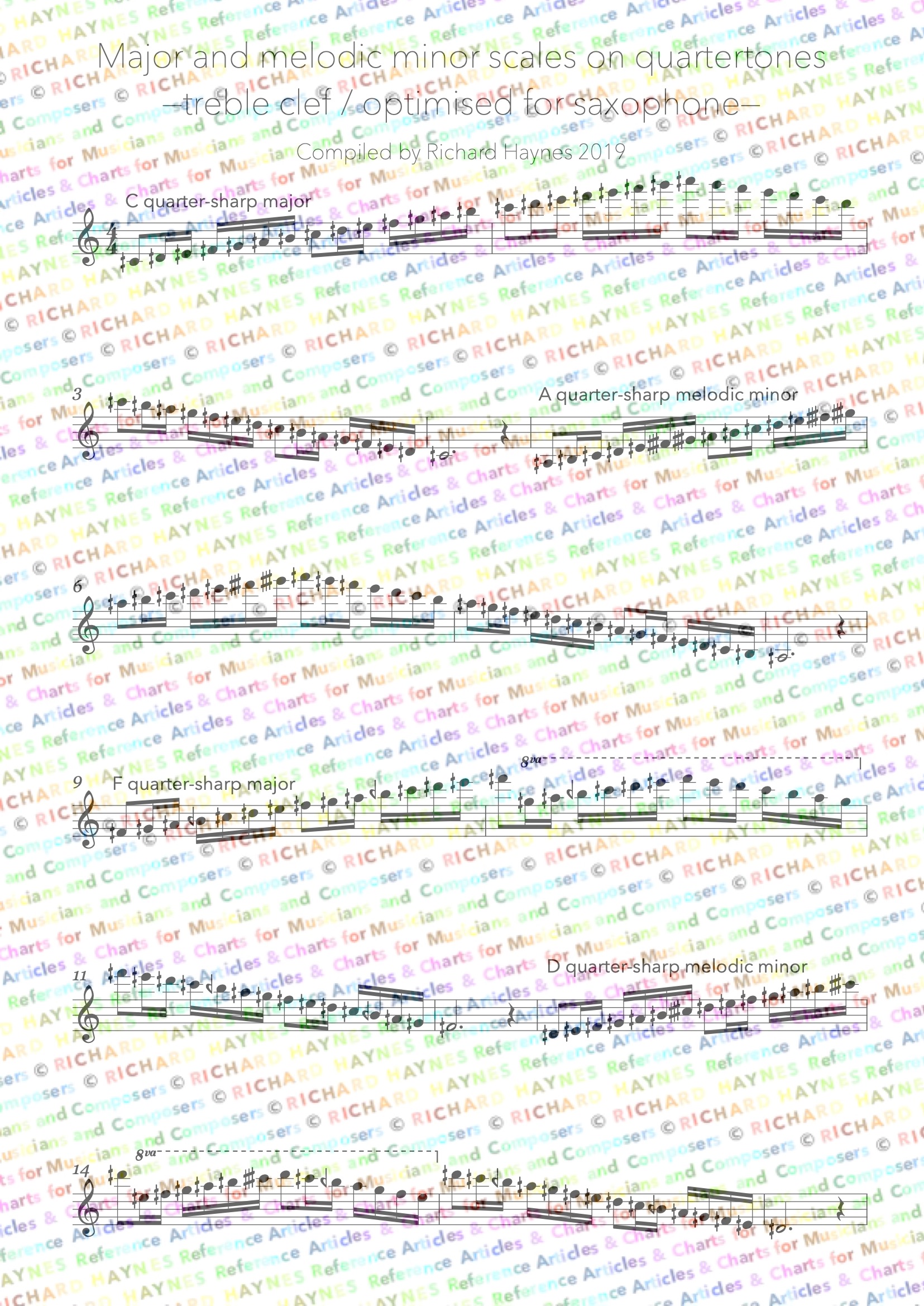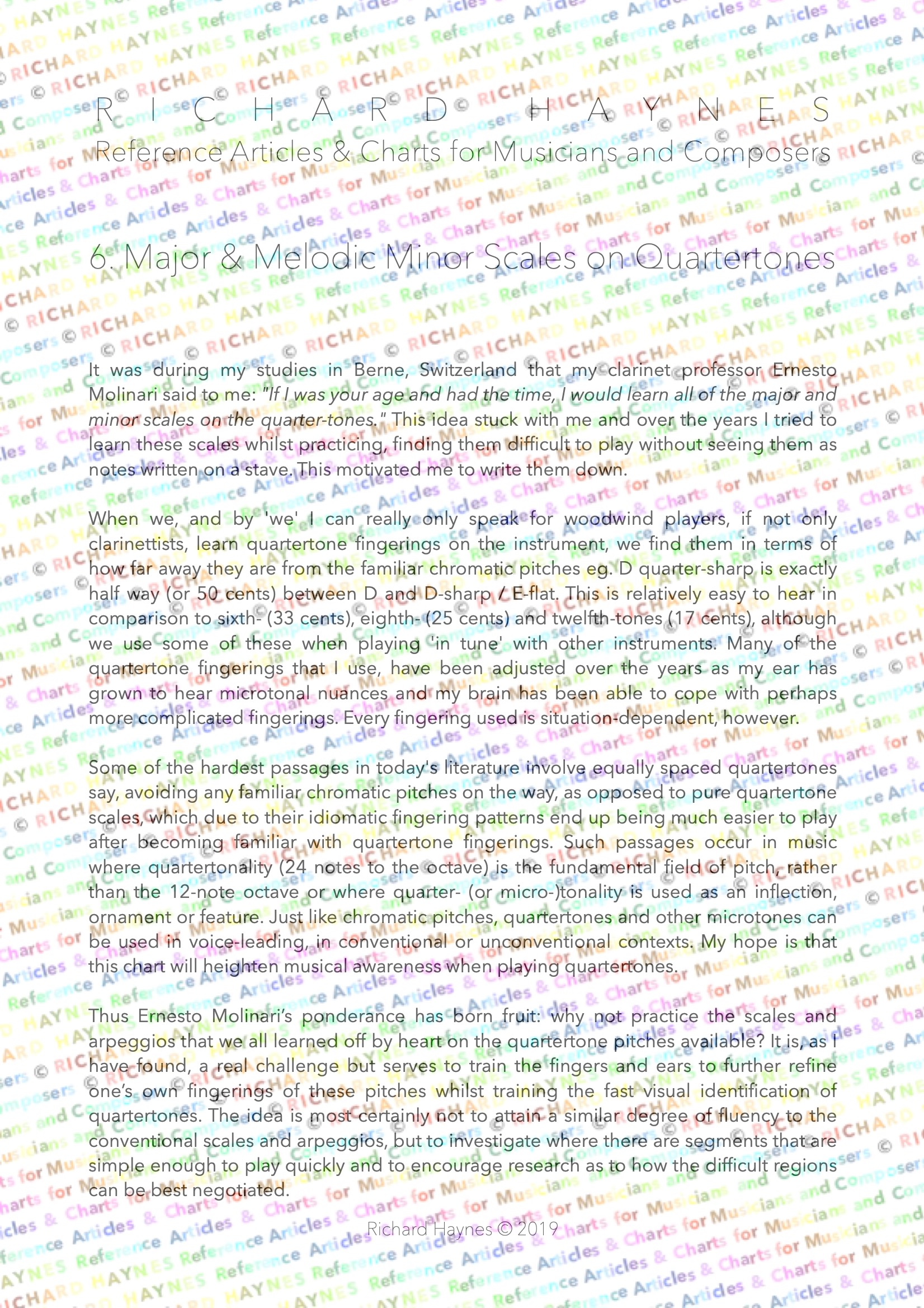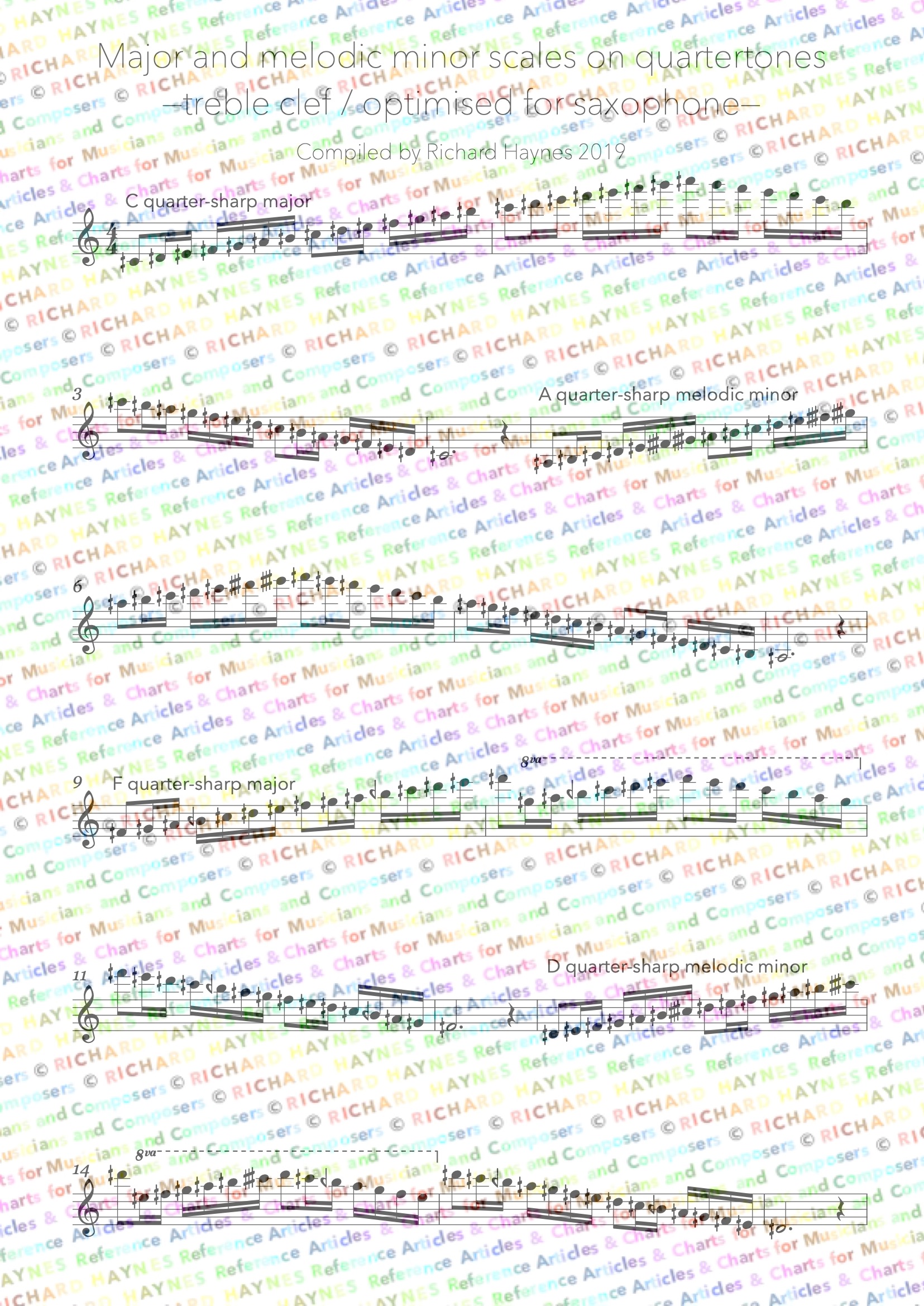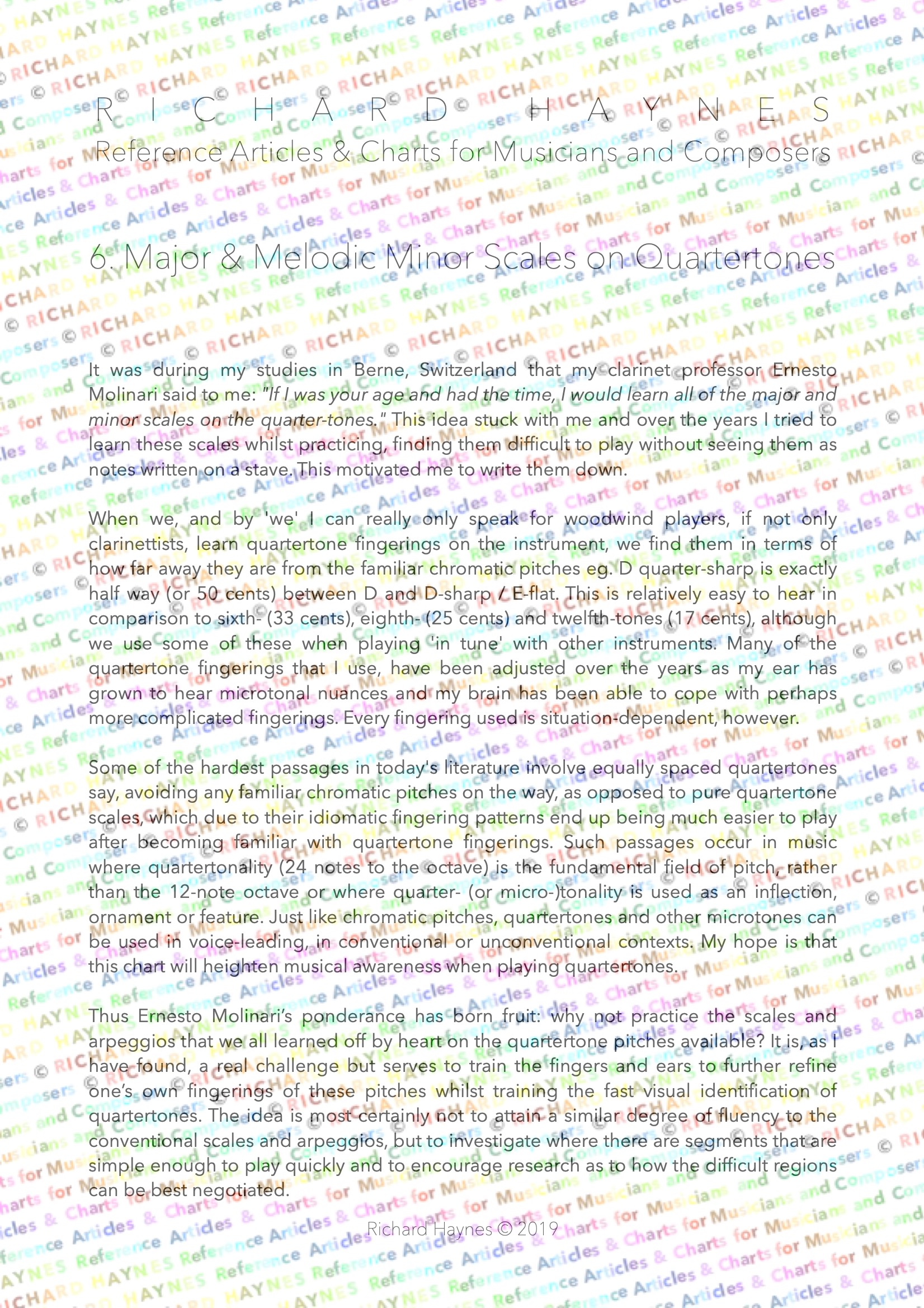 Major and Melodic Minor Scales on Quartertones SAXOPHONE
FOR CURRENCY CONVERSION RATES* PLEASE SCROLL UP ⬆︎
*The charged rate may differ from the above in accordance with payment method chosen
PREVIEW IMAGES ARE WATERMARKED, YOUR DOWNLOAD IS CRYSTAL CLEAR.
When we learn quartertone fingerings on the instrument, we find them in terms of how far away they are from the familiar chromatic pitches eg. D quarter-sharp is exactly half way (or 50 cents) between D and D-sharp / E-flat. This is relatively easy to hear in comparison to sixth- (33 cents), eighth- (25 cents) and twelfth-tones (17 cents), although we use some of these when playing 'in tune' with other instruments. Many of the quartertone fingerings that I use, have been adjusted over the years as my ear has grown to hear microtonal nuances and my brain has been able to cope with perhaps more complicated fingerings. Every fingering used is situation-dependent, however.
Some of the hardest passages in today's literature involve equally spaced quartertones say, avoiding any familiar chromatic pitches on the way, as opposed to pure quartertone scales, which due to their idiomatic fingering patterns end up being much easier to play after becoming familiar with quartertone fingerings. Such passages occur in music where quartertonality (24 notes to the octave) is the fundamental field of pitch, rather than the 12-note octave or where quarter- (or micro-)tonality is used as an inflection, ornament or feature. Just like chromatic pitches, quartertones and other microtones can be used in voice-leading, in conventional or unconventional contexts. My hope is that this chart will heighten musical awareness when playing quartertones.
Pages: 9
Keys: All major and relative melodic minor scales
All articles and charts downloaded from www.richardehaynes.com are protected by © copyright. The duplication and distribution of these files is punishable by law. For use in official publications such as journals, websites or as part of presentations, please contact the author.
Richard Elliot Haynes is a registered company with an Official Commercial Listing in Switzerland with ID number CHE-355.270.289. Please see the Commercial Listing Extract of the Canton of Bern, Switzerland for more details.
Over the past 15 years, I have spent the majority of my time practicing, performing and recording music for clarinet written by living composers. In between performing projects, I have taught clarinet and worked with composers at major universities in Basel, Bern, Boston, Brisbane, Christchurch, Huddersfield, Los Angeles, Melbourne, San Francisco, Seoul, Shanghai, Stuttgart, Sydney, Wellington and Zurich, and am the returning clarinet professor at the International Summer Academy of Contemporary Music run by the University of Music and Performing Arts, Vienna.
Over the years I have come into contact with many different kinds of musical situations in which an extended knowledge of and ability on the instrument is called for. During these steep learning curves I've often wondered if there could be a way to offer a method that prepares musicians for certain situations. A number of reference works have helped me to deal with the demands of the modern clarinettist, among them books by Rehfeldt and Richards. There seem to be many books about extended techniques however very few about the systematic, concentrated application of extended techniques in day to day practice.
These articles and charts have been written with the performer and composer of contemporary music in mind: performers of any instrument can use them to explore their instrumental technique and composers can use them as a point of reference and a source of inspiration. Each article or chart focusses on one particular topic or technique and the cost of each is on average less than that of a widely distributed book. The material is delivered instantly as a PDF digital download with no postage and no waiting time, and all major credit cards & PayPal are accepted payment methods.
Thank you for your interest in my reference materials. Should you have any questions, comments or suggestions for future work, please don't hesitate to write using the 'Contact' page of my website.